Your free Media Collection Cleaner
Remove unwanted media files, clean your media collection with ease and gain more free space for your favorites!
MediaCleaner supports all major media files which are common now a days like MP4, MP3, Wav(Wave), MPG(MPEG), MKV, FLV, WMV, AVI and DVD VOB files.
MediaCleaner has all the basic features of a Media Player like play, pause, stop, next and previous functions. It also has a volume control. The player can also be muted by clicking the speaker icon on the main interface dialog. The files deleted from hard disk are sent to recycle bin and the files deleted from Flash/USB Stick or Removable media are permanently deleted. (Be careful when deleting from removable media/usb stick.)
---
The main interface
The main interface is based on the state of the art music collection cleaning utility Music Cleaner. You select a folder/directory of your media collection by clicking Select Folder to Clean and set your Copy/Move to folder in Settings. Now you can Rename, Delete, Copy and Move your media files without leaving the software.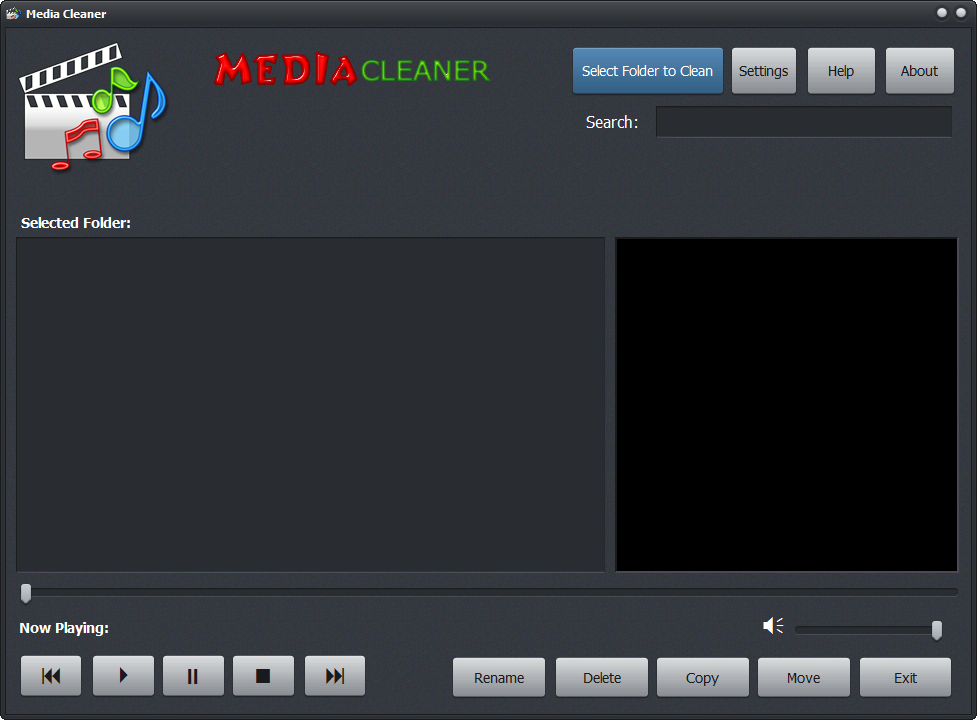 The Settings Dialog
In the settings dialog you can set your Copy and Move to folder. When your click Copy in MediaCleaner files will be copied to the Copy to Folder/Directory set in the settings window and same is the case with Move to Option which moves the files to Move to Folder/Directory. If you type a path instead of browsing the folder will be created by Media Cleaner if it does not exists.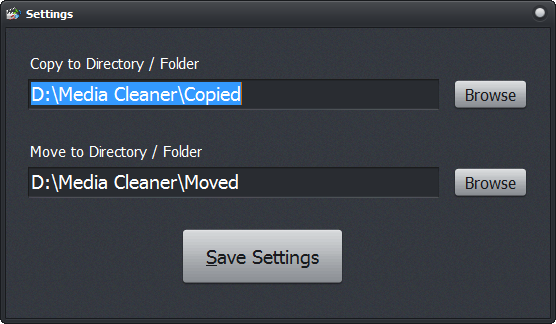 The about Dialog
This dialog shows the program information